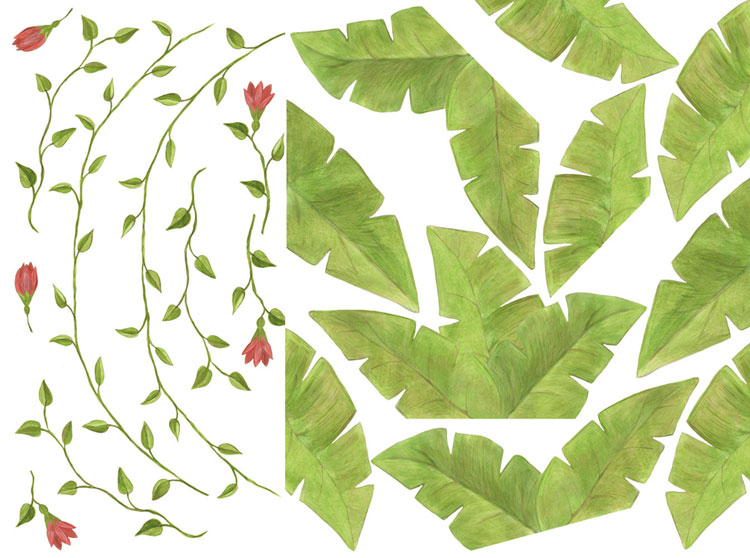 click vine & jungle leaf image for larger view
1 Sheet of tropical leaf & vine decals is enough to create a tropical rainforest - jungle wall border in any room.
Create a unique jungle wall border without formal repetition.

Order jungle vines with Jungle Animal Wall Decals or 5 Little Monkeys Wall Decals, Palm Fronds, Banana Leaves or extra Jungle Flowers.
Having a Party with a Jungle Theme?
Want to add some tropical foliage to an office break room?
Have a playroom that resides in an open area of your home?
Decorate with tropical leaves, vines and flowers that stay green all year long and never need to be watered!
Jungle Vines and Tropical Leaf wall decals are removable.
LARGE JUNGLE LEAVES, VINES, AND FLOWERS

Dimensions of sheet: 48"x64.5"

Includes:

2 double leaf groupings (29.5" wide) (hangs 11" down from ceiling)
1 triple leaf grouping (29.5" wide) (hangs 17" down from ceiling)
7 single leaves (16" to 19" wide) (hangs 7.5" to 11" down from ceiling)
2 looping vines (36" wide)
3 hanging vines (19" long)
5 jungle flowers with partial vine

Large Size Price: $154

MEDIUM JUNGLE LEAVES, VINES, AND FLOWERS

Dimensions of sheet: 36"x48.38"

Includes:

2 double leaf groupings (22" wide) (hangs 8" down from ceiling)
1 triple leaf grouping (22" wide) (hangs 13" down from ceiling)
7 single leaves (13" to 14.5" wide) (hangs 5.5" to 8.5" down from ceiling)
2 looping vines (27"wide)
3 hanging vines (14.5" long)
5 jungle flowers with partial vine

Medium Size Price: $105